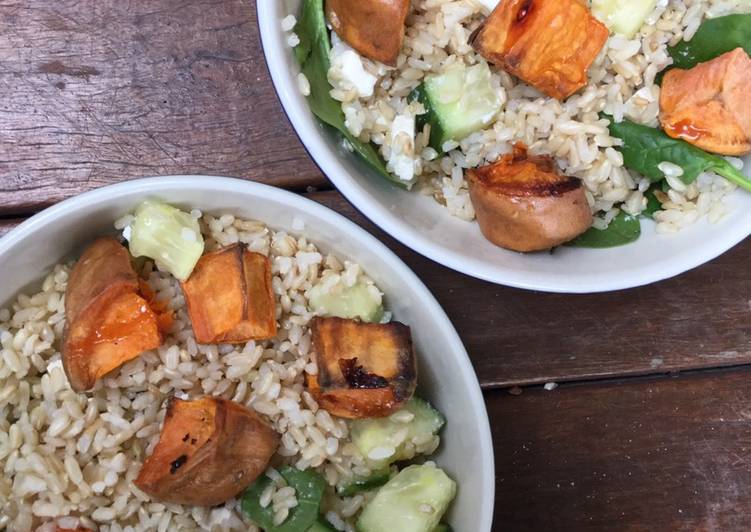 Sweet potato rice bowl. Black Bean & Sweet Potato Rice Bowls. With three hungry boys in my house, dinners need to be quick and filling, and it helps to get in some veggies, too. This one is a favorite because it's hearty and fun to tweak with different ingredients. —Kim Van Dunk, Caldwell, New Jersey.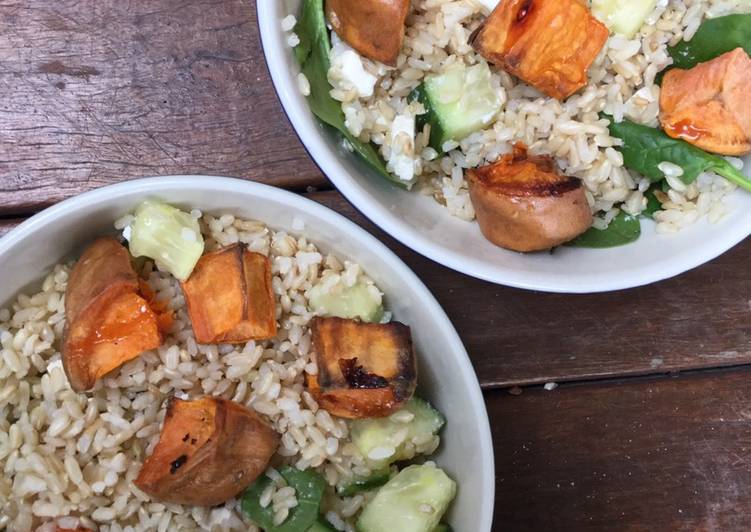 On a baking sheet prepared with parchment Next and last is assembling your bowl: Start with rice, followed by sweet potatoes, beans, and optional avocado cubes, and a good amount of tahini. What we LOVE about this brown rice bowl is that it is sooo easy and versatile. You could totally add or switch up ingredients and it would still taste lovely. You can have Sweet potato rice bowl using 7 ingredients and 8 steps. Here is how you cook it.
Ingredients of Sweet potato rice bowl
Prepare 1 cup of brown rice.
Prepare of Feta.
It's of Cucumber.
You need of Baby spinach.
Prepare of Olive oil.
Prepare of Salt.
It's of Sweet potatoe.
This Sweet Potato Rice is a great side dish that's both delicious and healthy, plus it's easy to make! I can't even count how many times I've made this rice. It's a great sweet potato side dish to all sorts of meals, but can also be used as the base for on-the-fly bowl meals. This machine also comes with a bowl attachment, so you can whip up your favorite dips, like my Zucchini Hummus, quickly chop veggies for a weeknight stir-fry, or easily create veggie rice to use in recipes like this vegan burrito bowl with sweet potato "rice".
Sweet potato rice bowl step by step
Pre heat your oven to 200 degrees.
Chop up your sweet potato and place on a baking tray with a sprinkle of salt and a thin coating of olive oil.
Half an hour later, during the cooking process of the sweet potato add 1 cup of rice and 2 cups of cold water to a saucepan, bring to the boil and let simmer for about half an hour until ready.
Once you potatoes are ready (they should be golden brown) turn off the oven and leave inside to stay warm.
Chop up you feta and cucumber.
Cool the rice down by running it under cold water, add the rice, sweet potato, feta, spinach and cucumber to two bowls and serve.
.
If there are any leftovers, keep them in a airtight container in the fridge for up to 3 days.
It's a perfect mini food processor! This brown rice bowl with yummy veggies and a maple-tahini sauce is the perfect comforting autumn dinner. At least for me, it has been my default lately: I For the tahini dressing mix together tahini, lime juice, maple syrup with a little water. Add rice, sweet potatoes, chickpeas and spinach to a big bowl. This easy-to-make rice and sweet potato bowl with herb tahini dressing is hardy enough to fill you up, but light enough so it won't weigh you down.